Dr. DeAnn Presley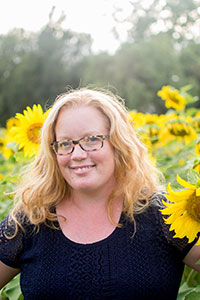 Professor
Environmental Soil Science and Management
Kansas State University
2712 Throckmorton PSC
1712 Claflin Road
Manhattan, KS 66506
Ph: +1-785-532-1218
Fx: +1-785-532-6094
Biography & Education
Biography
Dr. Presley is a soil scientist who works on a range of projects spanning both agricultural and suburban environments. Currently, most of her extension and applied research is on the topics of cover crops and the benefits that they provide, namely, on how cover crops affect soil health and crop production.
"By specializing in environmental soil science, I am able to work at the interface of agricultural production and the conservation of natural resources," Dr. Presley said.
During her professional career Dr. Presley has learned the importance of keeping an open mind and being flexible. These skills have proved vital in her position. Dr. Presley not only trains individuals in Extension but also actively seeks their suggestions for research projects.
"I truly enjoy interacting with others, and Extension is definitely a two-way form of communication," said Dr. Presley.
Education
Ph.D. Agronomy, Kansas State University, 2007
M.S. Agronomy, Kansas State University, 2002
B.S. Agronomy, Iowa State University, 1999
Extension
My research and extension interests include soil and water conservation, erosion control in both agricultural systems and urban/suburban environments, tillage and residue management effects on soil properties, bioenergy and biofuels, composting and application of organic materials to soils, providing education for onsite wastewater treatment professionals, and basic soil science education for youth.
Basic soil science education opportunities for youth that I have been involved with include elementary school students, 4-H groups including 4-H Range Youth Campers, and Envirothon. I coordinate land judging events for FFA and 4-H.
Publications
Farney, J.K., G.F. Sassenrath, C. Davis, and D. Presley. 2018. Composition, forage production, and costs are variable in three-way cover crop mixes as fall forage. Crop, Forage, and Turfgrass Management. doi:10.2134/cftm2018.03.0020
Presley, D., Y. He, and P. Tomlinson. 2018. Soil Health and Yields on Non-Sodic Soils Amended with Flue Gas Desulfurization Gypsum. Crop, Forage, and Turfgrass Management. doi: 10.2134/cftm2018.01.0001
Farney, J.K., G.F. Sassenrath, C.J. Davis, and D. Presley. 2018. Forage Mass Production, Forage Nutritive Value, and Cost Comparisons of Three-Way Cover Crop Mixes. Crop, Forage, and Turfgrass Management. doi:10.2134/cftm2017.11.0081
He, Y., D.R. Presley, J. Tatarko, and H. Blanco-Canqui. 2017. Crop residue harvest impacts wind erodibility and simulated soil loss in the Central Great Plains. Global Change Biology Bioenergy. doi: 10.1111/gcbb.12483
He, Y., D. Presley, and J. Tatarko. 2017.Liquid N and S fertilizer solutions effects on the mass, chemical, and shear strength properties of winter wheat (Triticum aestivum) residue. Trans. Am. Soc. Ag. Eng. 60: 671-682.
Presley, DeAnn, and Flordeliz T. Bugarin. 2016. Morphology, provenance, and decomposition of a 19th Century Hybrid Dugout and Sod House in Nicodemus, Kansas. 119: 381–393.
Platt, Jenna, DeAnn Presley, Peter Tomlinson, Johnathon Holman, Michelle Busch-Hilburn and Yuxin He. 2015. Soil Erodibility, Phosphorous, and Microbial Biomass within a Switchgrass Stand. Transactions of the Kansas Academy of Science. 118:113-118.
Busch-Hilburn, M., and D.R. Presley. 2014. Cedar afforestation of prairie alters soil properties on a decadal time scale. Soil Horizons. doi:10.2136/sh13-05-0015
Hartley, P.E., D.R Presley, M.D. Ransom, G.M. Hettiarachchi, and L.T. West. 2014. Vertisols and vertic properties of soils of the Cherokee Prairies of Kansas. SSSAJ 78:556–566.
Harms, A.M.R., D.R. Presley, G.M. Hettiarachchi, S. Martin, and S.J. Thien. 2014. Harmony Park: A decision case on urban gardening. Natural Sciences Education. 43:33-41.Attanayke, C.P., G.M. Hettiarachchi, A. Harms, D.R. Presley, S. Martin, and G.M. Pierzynski. 2014. Field Evaluations on Soil Plant Transfer of Lead from an Urban Garden Soil. JEQ 43:475-487. Kenney, I., Blanco-Canqui, H., Presley, D. R., Rice, C. W., Janssen, K. and Olson, B. 2013, Soil and crop response to stover removal from rainfed and irrigated corn. GCB Bioenergy. doi: 10.1111/gcbb.12128
Kaufman, R.C., J. D. Wilson, S. R. Bean, D. R. Presley, H. Blanco-Canqui, and M. Mikha. 2013. Effect of Nitrogen Fertilization and Cover Cropping Systems on Sorghum Grain Characteristics Journal of Agricultural and Food Chemistry. 61 (24), 5715-5719
Harms, A.M.R., D.R. Presley, G.M. Hettiarachchi, and S.J. Thien. 2013. Assessing the needs of urban gardeners and farmers on the subject of soil contamination. Journal of Extension [online]. Volume 51 // Number 1 // 1FEA10.
Presley, D.R., A.J. Sindelar, M.E. Buckley, and D. Mengel. 2012. Long-term nitrogen and tillage effects on soil physical properties under continuous grain sorghum. Agron. J. 104:749-755.
Blanco-Canqui, H., D.R. Presley, and M.M. Claassen. Summer Cover Crops Fix Nitrogen, Increase Crop Yield and Improve Soil-Crop Relationships. Agron. J. 104: 1:137-147.
Blanco-Canqui, H., M.M. Mikha, D.R. Presley, and M.M. Claassen. 2011. Addition of cover crops enhances no-till potential for improving soil physical properties. Soil Sci. Soc. Am. J. 75:1471-1482.
Presley, D.R., M.D. Ransom, W.A. Wehmueller, and W. Tuttle. 2011. Sodium accumulation in sparsely vegetated areas of native grassland in Kansas: A potential need for a paranatric diagnostic horizon. Soil Survey Horizons. 51:95–101.
Blanco-Canqui, H., R.J. Stephenson, N.O. Nelson, and D.R. Presley. 2009. Wheat and sorghum residue removal for expanded uses increases sediment and nutrient loss in runoff. J. Environ. Qual.38:2365-2372.
Presley, D.R., P.E. Hartley, and M.D. Ransom. 2009. Mineralogy and morphological properties of buried polygenetic paleosols formed in late Quaternary sediments on upland landscapes of the Central Plains, USA. Geoderma 154:508–517.
Presley, D. R., M. D. Ransom, G. J. Kluitenberg, and P. R. Finnell. 2004. Effects of thirty years of irrigation on the genesis and morphology of two semiarid soils in Kansas. Soil Sci. Soc. Am. J. 68:1916-1926.
Research
I'm a pedologist by training, and I believe that an appreciation of soil resources is paramount for the utilization and protection of soil resources.
Soil Management, Quality, and Conservation
My research program is predominantly applied in response to the needs of agricultural producers and managers of soil resources. Current research topics include the agronomic, soil-water relations, and environmental impacts of harvesting crop residue; agronomic and soil quality effects of vertical tillage on corn production; effects of tillage, crop rotation and/or nitrogen fertilizer rates on soil properties; and impacts of cover crops on both soil and grain quality.
Applied Pedology
I'm interested in human time-scale dynamic soil properties and impacts of humans on soil properties and processes. One new project will examine the effects of cedar expansion on Flint Hills prairie-derived soils and the subsequent shifts in physical properties and processes of soil genesis.
Basic Pedology
I remain interested in late Quaternary loess-paleosol sequences and the soils of the Flint Hills region of Kansas which I studied as Ph.D. student. I am also an investigator on an archaeological research project on buried sod block homes of Nicodemus, Kansas.
Additional Research Links
Staff & Students