Dr. Tesfaye Tesso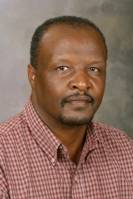 Professor
Sorghum Breeding and Genetics
Kansas State University
3007 Throckmorton PSC
1712 Claflin Road
Manhattan, KS 66506
Ph: +1-785-532-7238
Fx: +1-785-532-6094
Education
Post Doctoral Associate Sorghum breeding, Purdue University
Ph.D. Plant Breeding and Genetics, Kansas State University, 2002
M.S. Plant Breeding, Alemaya University, 1997
B.S. Plant Sciences, Alemaya University , 1991
Publications
Tesso, T., and G. Ejeta. 2010. Stalk strength and reaction to infection by Macrphomina phaseolina of brown midrib maize (Zea mays) and sorghum (Sorghum bicolor). Field Crops Res. (accepted).
Tesso, T. K. Kershner, K. Al-khatib, and M. Tuinstra. 2010. Regisration of 34 sorghum germplasm lines resistant to Acetolactate synthase (ALS) inhibitor herbicides. J. Plant Reg. (in press)
Tesso T., N. Ochanda, L. Claflin, Christopher Little and M. Tuinstra. 2010. Analysis of host plant resistance to multiple Fusarium species associated with stalk rot diseases in sorghum [Sorghum bicolor (L.) Moench]. Field Crops Res. 118:177-182.
Tesso T., N. Ochanda, L. Claflin and M. Tuinstra. 2009. An improved method for screening Fusarium stalk rot resistance in grain sorghum [Sorghum bicolor (L.) Moench]. African J. Plant Sci. 3:254 - 262
Ming Li Wang, Chengsong Zhu, Noelle A. Barkley, Zhenbang Chen, John E. Erpelding, Seth C. Murray, Tesfaye Tesso, Gary A. Pederson, and Jianming Yu. 2009. Genetic Diversity and Population Structure Analysis of Accessions in the U.S. Historic Sweet Sorghum Collection. Theor. Appl. Genet.
Vogler, K, T. Tesso, K. D. Johnson, and G. Ejeta. 2009. The effect of allelic variation on forage quality of brown midrib sorghum mutants with reduced caffeic acid O-methyl transferase (COMT) activity. African Journal of Biochemistry Research, 3:70-76.
Research
The goal of the K-State sorghum breeding program is to develop and release elite sorghum parental lines and germplasm that posses traits desired by the sorghum community in the Great Plains. The program particularly targets traits that:
Enhance drought tolerance
Facilitate weed control
Improve overall productivity and utilization of sorghum as feed, food and bio-energy crop.
To achieve this, we employ the state of the art molecular tools and conventional breeding methods. We operate in partnership with a multi-disciplinary team of researchers with diverse expertise including genetics, plant pathology, entomology, physiology, grain science, cereal chemistry and bio-processing. We continue to utilize the platform created by the Center for Sorghum Improvement and the Kansas State University Targeted Excellence Program to further enhance our partnership and collaboration to better target outstanding constraints and also exploit new opportunities (new tools and new uses of the crop) to enhance the competitiveness of the sorghum industry in the region.
Additional Links about Dr. Tesso's Research
Staff & Students