Dr. Charles W. Rice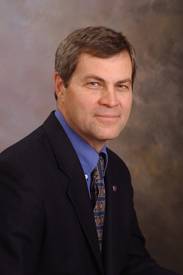 Distinguished Professor
Soil Microbiology
Kansas State University
2701 Throckmorton PSC
1712 Claflin Road
Manhattan, KS 66506
Ph: +1-785-532-7217
Fx: +1-785-532-6094
Biography & Education
Biography
Dr. Rice grew up in Yorkville, Illinois which had a population of about 1,500 people at the time. Throughout the years he became involved in many aspects of 4-H. Rice received his B.S. in Geography from Northern Illinois University. He then completed his Masters and Doctorate from the University of Kentucky. Rice began his undergraduate work in biology but it was a honors geography water resource class that would lead him to switching his major. "I liked the courses and faculty in geography," Rice said, "I switched over and never regretted it."
After graduating, he took an internship doing research at Argonne National Laboratory and found his calling. His advisor encouraged him to expand his horizons and go to graduate school -- and he ended up at the University of Kentucky, where he earned both his M.S. and Ph.D. degrees in Agronomy. Rice said the mentoring from faculty helped guide him to his current occupation. In 1988 Rice joined the Agronomy faculty at K-State. "It was a job that was a great fit," Rice said, "I liked the University, faculty, the culture of the Department, and how people worked together."
Rice specializes in soil microbiology, carbon cycling, and climate change. His extensive research has allowed him to gain helpful insight in order to help his students. Rice advises students to take international trips and have a lot of diverse experiences. "Enroll in courses that have nothing to do with your major, you never know," Rice said. "Even my geography courses have benefitted me by helping me better understand other cultures during my international experiences." There are many positive aspects to being specialized, but it is challenging to link that specialty to broader areas. "It is important to teach how a certain area of specialty, such as soil microbiology, has an impact beyond the local level and get students to think about the bigger picture," Rice said.
Dr. Rice spends his remaining free time relaxing by doing the things that he enjoys most, reading and gardening. Rice said he likes the physical work from getting outside in the garden. "I enjoy seeing the results and accomplishments from my work in the garden," Rice said.
Education
Ph.D. Soil Microbiology, University of Kentucky, 1983
M.S. Soil Science, University of Kentucky, 1980
B.S. Geography, Natural Environmental Systems, Nothern Illinois University, 1977
Publications
White, P., and C.W. Rice. 2009. Tillage effects on microbial and carbon dynamics during plant residue decomposition. Soil Bio Biochem. 73 (1): 138-145.
Wilson, G.W.T., CW. Rice, M.C. Rillig, A.C. Springer, and D.C. Hartnett. 2009. Arbuscular mycorrhizal fungal abundance controls soil aggregation and carbon sequestration. Ecology Letters 12:452-461.
Fabrizzi, K., C. W. Rice, T. Amado, J. Fiorin, P. Barbagelata, and R. Melchiori 2008. Mechanisms of soil organic matter stabilization in temperate and tropical soils: Effect of native and agroecosystems. Biogeochem 92:129-143.
McKinley, D.C., C.W. Rice, and J.M. Blair. 2008. Conversion of grassland to coniferous woodland has limited effects on soil nitrogen cycle processes. Soil Biol. Biochem. 40:2627-2640.
Smith, P., D. Martino, Z. Cai, D. Gwary, H. Janzen, P. Kumar, B. McCarl, F. O'Mara, C. Rice, B. Scholes, O. Sirotenko, M. Howden, T. McAllister, S. Ogle, G. Pan, V. Romanenkov, U. Schneider, S. Towprayoon M. Wattenbach and J. Smith. 2008. Greenhouse gas mitigation in agriculture Philosophical Transactions of the Royal Society (B) 363: 789-813.
Research
General Research Objectives and Interests
The overall goal of my research program is to improve and protect the environment. More specifically, my research focuses on soil quality/microbiology, climate change, and the relationship between the two.
Background
I am university distinguished professor of agronomy and co-winner of the 2007 Nobel Peace Prize for my work with the United Nations' Intergovernmental Panel on Climate Change. My research has been supported by more than $15 million in grants from the USDA, U.S. Department of Energy, National Science Foundation, and others. I have advised more than 30 graduate students and have more than 100 publications.
In addition to my involvement in research and teaching in soil microbiology at K-State, I have been active with the Soil Science Society of America, where I will serve as president in 2011. I currently serve on the National Academies Board on Agriculture and the U.S. Department of Agriculture's Agricultural Air Quality Task Force. I also chair the Commission on Soils, Food Security and Public Health of the International Union of Soil Sciences, and am a Fellow of the Soil Science Society of America, American Society of Agronomy, and the American Association for the Advancement of Science.
More Research Information
Staff & Students
Teaching