Dr. Ramasamy Perumal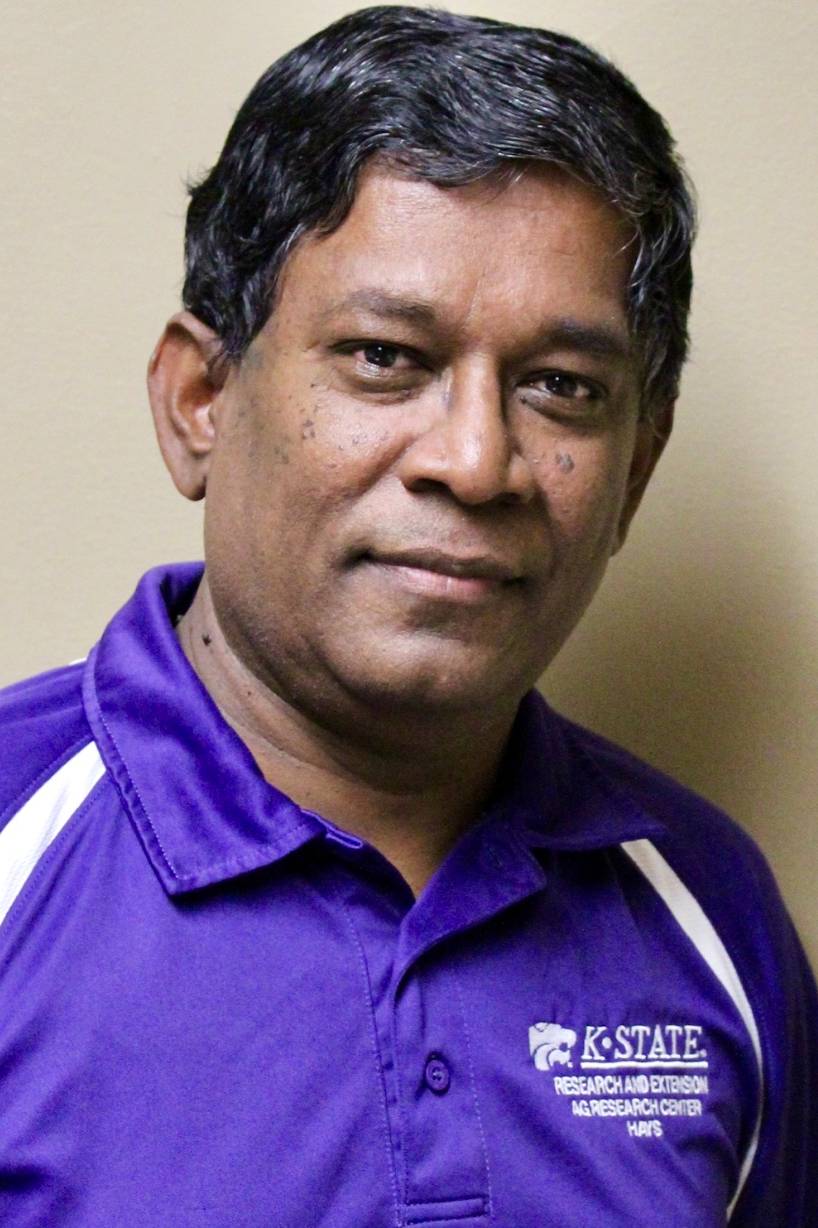 Associate Professor
Sorghum & Millet Breeder
Agricultural Research Center
1232 240th Avenue
Hays, KS 67601
Ph: +1-785-625-3425
Fx: +1-785-623-4369
Biography & Education
Education
Post Doctoral Associate Sorghum Biotechnoloy, Rockefeller Foundation, Texas A&M University , 1998 - 2000
Ph.D. Plant Breeding and Genetics, Tamil Nadu Agricultural University, India, 1993
M.S. Plant Breeding and Genetics, Tamil Nadu Agricultural University, India, 1983
B.S. Agriculture, Tamil Nadu Agricultural University, India, 1981
Publications
Perumal, R., Tesso, T., Morris, G.P., Jagadish, S.V.K, Little, C. R., Bean, S.R., Yu, J., Prasad, P.V.V. and Tuinstra, M.R. 2020a. Registration of the sorghum [Sorghum bicolor (L.) Moench] nested association mapping (NAM) population with RTx430 background. J. Plant Regist. (In press; accepted 09-23-2020).
Perumal, R., Tomar, S.S., Bandara, Y.M.A.Y., Maduraimurthu, D., Tesso, T., Prasad, P.V.V., Upadhyaya, H.D., and Little, C.R. 2020b. Variation of stalk rots resistance and physiological traits of sorghum genotypes in the field under high temperature conditions. J. Gen. Plant Pathol., 86:350-362. https://doi.org/10.1007/s10327-020-00940-4.
Ostmeyer, T., Bheemanahalli, R., Srikanthan, D., Bean, S., Peiris, K.S.H., Madasamy, P., Perumal, R., and Jagadish, S.V.K. 2020. Quantifying the agronomic performance of new grain sorghum hybrids for enhanced early-stage chilling tolerance. Field Crops Res., 258:107955. https://doi.org/10.1016/j.fcr.2020.107955.
Maulana, F., Perumal, R., and Tesso, T. 2020. Hybrid performance as related to genomic diversity and population structure in public sorghum [Sorghum bicolor (L.) Moench] Inbred Lines. Crop Sci. (In press; accepted 07-21-2020).
Weerasooriya, D., Bandara, A., Dowell, F., Peiris, S., Bean, S., Perumal, R., Adee, E., and Tesso, T. 2020. Performance of grain sorghum hybrids resistant to Acetolactate Synthase (ALS) and Acetyl Coenzyme-A carboxylase (ACCase) inhibitor herbicides. Crop Sci. (In press; accepted 08-14-2020).
Research
Project Description
The major focus of sorghum research at KSU, ARC, Hays, KS for the semi-arid regions of Kansas is to increase yield potential through the development of elite parental lines and hybrids with chilling/heat and drought tolerance at pre-flowering and post-flowering stages, lodging and diseases resistance (Fusarium stalk rot, charcoal rot, and grain mold), insect resistance (sugarcane aphids) and herbicide tolerance to minimize the weeds competition and enhanced productivity in Kansas. Also, the program aims to accelerate the breeding process by integrating markers assisted selection (MAS) to develop tannin free chilling tolerant parents though multi-disciplinary and multi-institutional collaboration. Other major priority areas are to: i) develop and commercialize K-State sorghum high yielding hybrids in partnership with private seed industries with improved agronomic characteristics for the direct benefit of Kansas sorghum growers. ii) develop parental lines with improved sorghum specialty traits (high polyphenol and antioxidant) to add value to anti-cancer properties and iii) generate next-generation classical breeders through short-term hands-on training courses every year in collaboration with national and international institutes.
Current Projects
Chilling tolerance: Sorghum originated in the semi-arid tropics and generally is sensitive and vulnerable to low and freezing temperatures and suffers chilling injury when soil temperature goes below 50-55°F. Low temperature stresses during germination and early vegetative growth results in poor seedling establishment and reduced growth rate after emergence due to low aerial temperature (60-65°F). Development of chilling tolerant non-tannin sorghum lines and hybrids is a priority objective to take advantage of early season moisture, minimum tillage and a longer growing period. This would help expand the area of coverage and increase the possibility of two crop seasons for producers. Enhanced germination and emergence at low temperatures would facilitate early planting and adaptation to cooler days between the end of April and May in Kansas. Advanced unique, chilling tolerant, tannin free parental lines and hybrids were developed and are currently under evaluation to facilitate early planting (end of April to 1st week of May) and harvesting (1st week of Sep) of sorghum to maximize germination, seedling vigor, plant stand and early harvest (middle of September) with increased yield potential in sorghum growing regions.
Pre- and post-flowering drought and heat tolerance: Adaptation of sorghum to the range of environmental conditions in semi-arid regions has resulted in the evolution of extensive genetic variation for drought tolerance in sorghum (Blum 1979; Doggett 1988). However, water stress at both pre-flowering and post-flowering stages of development has the most adverse effect on yield. Hence, productivity enhancement under drought conditions is a challenging task because of the unpredictable nature of most periods of drought stress prevailing in sorghum growing areas in Kansas and gaps in our knowledge of drought biology Non-lodging and diseases resistance to Charcoal rot [caused by Macrophomina phaseolina (Tassi) Goidanich] and Fusarium stalk rot (caused by Fusarium spp.) are other important traits associated with post-flowering drought stress. The research focus at this center is primarily on the development of drought tolerant parents and hybrids using classical and molecular breeding methods and through estimating the genetic parameters and traits association for some valuable morpho-physiological traits which have been extensively utilized for screening of pre- and post-flowering drought tolerance.
Herbicide tolerance: Research has shown that heavy weed infestations can reduce grain sorghum yields by 50 percent. In addition, weeds may decrease grain quality, increase insect and disease pressure, and increase harvest difficulty. Developed parental lines and hybrids are being evaluated in collaboration with weed scientists to select sorghum lines and hybrids tolerant to acetolactate synthase (ALS) and acetyl coenzyme A carboxylase (ACC) herbicides.

To achieve the targeted goals, partnership with public (KSU, Manhattan, KS; Texas A&M University, College Station, TX; USDA Lubbock, TX) and private (S&W Seeds Co., Lubbock, TX) sorghum breeders is established and diversified parental lines from each program is being exchanged to bring heterotic high yielding hybrids for direct commercialization. This unique collaboration and team focus on evaluating potential hybrids across 8 to 10 locations in Texas and Kansas every year leads to the development of hybrids with drought, heat and chilling tolerance, resistance to stalk-rots, lodging, sugarcane aphids, and herbicides for weed management with improved seed quality.
Specialty sorghum: Identified high-polyphenol black-seeded sorghum lines with anti-cancer properties that are currently used to develop new parental lines with adapted agronomic traits. Research is simultaneously focused in collaboration with researchers from USDA, Manhattan, KS on several tests evaluation for the anti-cancer properties and other side effects. The study will impact on the development of many specialty sorghum parental lines and hybrids for release to increase the sorghum market value.