Dr. Clenton Owensby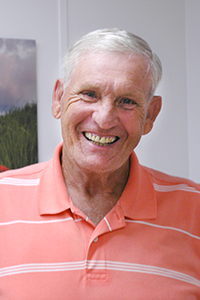 Professor
Range Management
Kansas State University
3016A Throckmorton PSC
1712 Claflin Road
Manhattan, KS 66506
Ph: +1-785-532-7232
Fx: +1-785-532-6094
Biography & Education
Biography
Dr. Owensby was born on March 17, 1940 in Clovis, New Mexico. He has held many positions, to include Research Assistant (1964-66), Instructor at K-State (1967-69), Assistant Professor at K-State (1970-73), Associate Professor at K-State (1974-78) and on to Professor at K-State (1979-present).
He belongs to four honor societies: Gamma Sigma Delta, Sigma XI, Alpha Zeta, Phi Kappa Phi, and has received many honors to include the following:
KSU Outstanding Agriculture Faculty Member, 1971
Gamma Sigma Delta Teaching Award of Merit, 1971
Gamma Sigma Delta Faculty Award of Merit, 1984
AMOCO All University Outstanding Teaching Award 1985
NACTA Fellow Award 1985
Society for Range Management Outstanding Achievement Award 1989
Irvin Youngberg Award for Applied Research U of Kansas $10,000 1993
Gamma Sigma Delta Research Award of Merit, 1994
KSU College of Agriculture Faculty of the Semester 2000
W.R. Chapline research Award - Society for Range Management 2004
Education
Ph.D., Kansas State University, 1969
B.S., New Mexico State University, 1964
Publications
Gilmanov, T.G., Demment, M.W., Wylie, B.K., Laca, E.A., Akshalov, K., Baldocchi, D.D., Belelli, L., Bradford, J.A., Coulter, R.L., Dugas, W.A., Emmerich, W.E., Flanagan, L.B., Frank, A.B., Haferkamp, M.R., Johnson, D.A., Meyers, T.P., Morgan, J.A., Nasyrov, M., Owensby, C.E., Pekour, M.S., Pilegaard, K., Saliendra, N.Z., Sanz, M.J., Sims, P.L., Soussana, J.F., Tieszen, L.L., Verma, S.B. 2005. Quantification of CO2 exchange in grassland ecosystems of the world using tower measurements, modeling and remote sensing. In: Proceedings of the 20th International Grassland Congress. June 26 - July 1, 2005, University College, Dublin Ireland. p. 78.
Lai, C., W. Riley, C. Owensby, J. Ham, A. Schauer, and J. R. Ehleringer (2006), Seasonal and interannual variations of carbon and oxygen isotopes of respired CO2 in a tallgrass prairie: Measurements and modeling results from 3 years with contrasting water availability, J. Geophys. Res., 111, D08S06, doi:10.1029/2005JD006436.
Owensby, Clenton E., Jay M. Ham, and Lisa M. Auen. 2006. Fluxes of CO2 from grazed and ungrazed tallgrass prairie. Rangeland Ecology and Management 59:111-127.
Jastrow, Julie D., R. Michael Miller, Roser Matamala, Richard J. Norby, Thomas W. Boutton, Charles W. Rice, Clenton E. Owensby. 2005. Elevated atmospheric CO2 increases soil carbon. Global Change Biology 11:2057-2064.
Williams, M.A., C. W. Rice, and C. Owensby. 2006. Natural 15N abundances in a tallgrass prairie ecosystem exposed to 8-y of elevated atmospheric CO2. Soil Biology and Biochemistry 38:409-412.
Lai, Chun-Ta, Andrew J. Schauer, Clenton Owensby, Jay M. Ham, Brent Helliker, Pieter P. Tans, Ken Masarie, James R. Ehleringer 2006. Regional CO2 fluxes inferred from mixing ratio measurements: estimates from flasked air samples in central Kansas, USA. Tellus 58B:523-536
Research
Range Plant Physiology
Research into carbon allocation, photosynthesis, and root exudation in range grasses, nitrogen cycling associated with fire in tallgrass prairie; effect of atmospheric carbon dioxide enrichment on the tallgrass prairie ecosystem and carbon, water vapor, and energy fluxes of tallgrass prairie; impact of grazing on carbon allocation strategies including photosynthetic pathway effects; carbon sequestration under different land use practices.
Grazing Systems
Development of economically and ecologically efficient grazing systems for stocker and cow/calf enterprises.
Range Burning
Research into the effects of range burning on plant and animal components of range ecosystems.
Prairie Management & Research
Development of GPS/GIS databases and tools for research and management of prairie.
Staff & Students
Teaching