The K-State Research and Extension Soil Testing Lab is a not-for-profit organization providing high quality analysis of soil, plant, forage, grain, and water for farmers, homeowners, and researchers.
Know which tests you want to order?
Download the forms for each test and submit your samples today. Already been here? Log into your account to access your test results.
Soil Analysis
Many different analyses for soil samples are conducted at the Soil Testing Lab. The most common analyses requested include tests for pH, phosphorus (P), potassium (K), nitrate (NO3), and organic matter.
Lime Analysis
Agricultural lime analysis is commonly conducted for producers and lime quarries. Samples are oven dried before analysis, which can cause the analytical time to vary depending on the moisture content of the sample that is submitted.
Plant, Forage & Grain Analysis
Plant, forage, and grain samples are sent to the KSU Soil Testing Lab for nutritional status and nitrate testing. Analysis time can vary depending on the moisture levels of the sample.
Water Analysis
We offer water analysis for nutrient and irrigation water quality analysis for producers and full analysis of water samples for researchers. However, full drinking water analysis is not offered.
Leaf Analysis
We routinely test for leaf nutrient content. It is very important that the appropriate polant or leaf part be submitted to the lab.
Soil Fertilizer Recommendations
Managing soil health and nutrients is crucial to plant health and growth. Here, we've collected articles and resources to help you make soil fertilizer decisions.
Sample Drop-off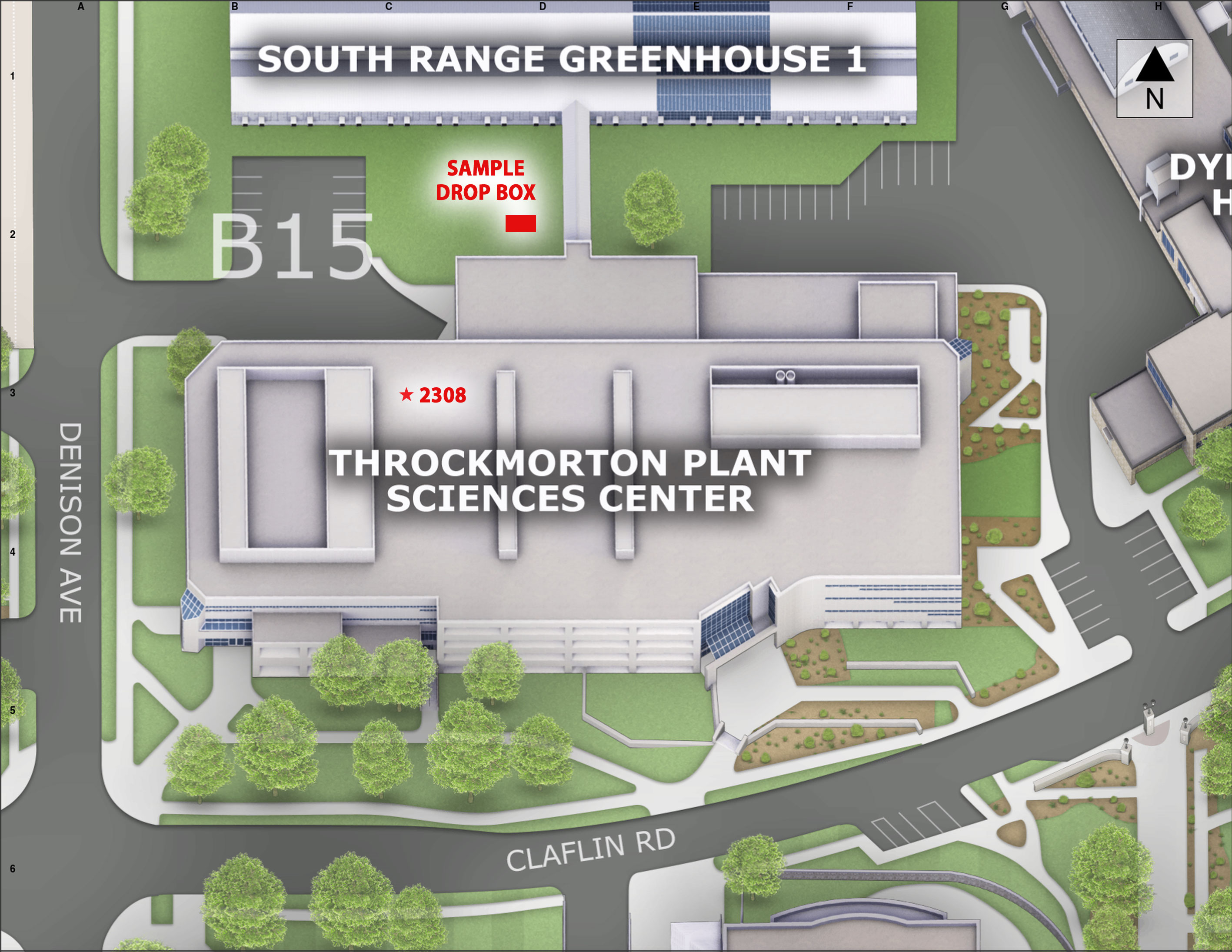 You are welcome to bring your samples to the lab in room 2308 during business hours or put them in the drop box on the northwest side of the building after hours.
Shipping your samples instead? Get a shipping label through UPS.
Soil Testing Laboratory
2308 Throckmorton PSC
1712 Claflin Road
Manhattan, KS 66506-5503
Ph: +1-785-532-7897
Lab Hours:
Mon-Fri 8am-5pm