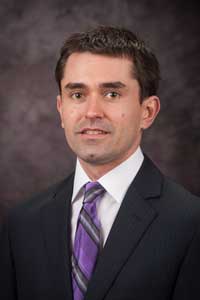 Eduardo Santos, PhD
Associate Professor
Micrometeorology
1011B Throckmorton PSC
1712 Claflin St
Manhattan, KS 66506
Ph: 785-532-6932
I grew up in a small town in Southeastern Brazil, where I did my undergraduate studies. When I was a undergraduate student, I had the opportunity to work as a research assistant in the Agricultural Meteorology laboratory at the Federal University of Espirito Santo. I found it fascinating how environmental variables affect the growth and development of living organisms and I also enjoyed working with instruments and techniques to measure micrometeorological variables.
After receiving my Bachelor of Science in Agronomy from the Federal University of Espirito Santo in 2004, I decided to pursue a Master's in the Environmental Physics graduate program at the Luiz de Queiroz Agricultural College in Sao Paulo, Brazil. My Master's research focused on methods to measure and estimate leaf wetness duration, which is an important variable for plant disease epidemiology. After completing my Master's studies in 2006, I went to the University of Guelph in Ontario, Canada and received my Ph.D. degree in Land Resource Science in 2011. At the University of Guelph, I worked with micrometeorological techniques to study the gas and energy exchange between plant canopies and the atmosphere. After graduating, I worked for a while in Brazil at Embrapa and the Federal University of Vicosa. In the Fall of 2012, I joined the Department of Agronomy at Kansas State University as the Assistant Professor of Agricultural Micrometeorology.
Education
Ph.D. Land Resource Science, University of Guelph, 2011
M.S. Agronomy, Luiz de Queiroz Agricultural College (ESALQ/USP), Brazil, 2006
B.S. Agronomy , UFES, 2004
Research
My research focuses on the transport of mass and energy between the land surface and the atmosphere. Our research group applies micrometeorogical approaches and other techniques to measure fluxes of trace gases (CH4, NH3, stable isotopes of CO2, etc.) between agricultural systems or natural vegetation to the atmosphere. These flux measurements have a wide variety of applications.
For instance, the quantification of trace gas fluxes could bring new insights into the biophysical mechanisms governing global biogeochemical cycles, indicate mitigation strategies to minimize greenhouse gas emissions from agricultural production systems and improve predictions of future climate scenarios.