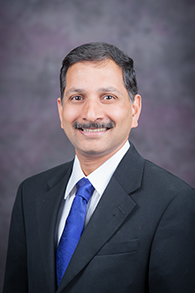 PV Vara Prasad, PhD
Professor | Director
Crop Ecophysiology | Sustainable Intensification Innovation Lab
108 Waters Hall
Manhattan, KS 66506
Ph: 785-532-3746
Dr. Vara Prasad obtained his BS and MS degrees from Andhra Pradesh Agricultural University in India, and Ph.D. from University of Reading in United Kingdom. He is currently a Professor of Crop Ecophysiology and Director of Center for Sorghum Improvement in the Department of Agronomy at Kansas State University. His research mainly focuses on understanding responses of food grains crop to changing environments (temperature, water and climate change factors) and developing crop management strategies for efficient use of inputs.
He is passionate about international research and education. He has several on-going international research programs in Africa (Ghana, Mali, Burkina Faso, Niger and Kenya) and Asia (India, Philippines) focusing on soil, water, nutrient and crop management practices, and stress tolerance for improving crop productivity. Dr. Prasad has published more than 100 peer reviewed journal articles and book chapters, and served as a peer reviewer for more 35 different international journals. He currently serves on editorial boards of international journals including Crop Science, Agronomy Journal and Journal of Crop Improvement.
He teaches two graduate level courses: Crop Physiology; and Advanced Crop Ecology. He has graduated 6 doctoral and 5 master students, and trained more than 30 international scholars. He is an active member of American Society of Agronomy, Crop Science Society of America, Soil Science Society of America, American Association of Advancement of Science and International Society for Agricultural Meteorology.
Research
Crop production is highly sensitive to environmental changes and variation. Kansas has wide gradient of environments, particularly with rainfall and temperatures. Annual rainfall varies from 16 inches on western border to over 40 inches in Southeast, and as we move from north to south, temperature increases. Crops in Kansas are often exposed to water stress, heat and cold stress during crop growing season leading to decreased biomass, grain yield and quality. Thus, crop production is always challenging to farmers and researchers.