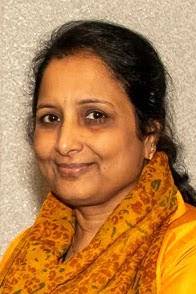 Mithila Jugulam, PhD
Professor
3703 Throckmorton PSC
1712 Claflin St
Manhattan, KS 66506
Ph: 785-532-2755
Dr. Mithila Jugulam originally comes from India where she obtained her B.S and M.S degrees in Agriculture. She then worked as an ARS-Scientist with Indian Council of Agricultural Research (ICAR) for several years. She joined KSU in 2011 to accept research and teaching responsibilities in Weed Physiology. Before coming to KSU, she has worked for several years as a Postdoctoral Research Associate at the University of Guelph in Canada. She has also received a Ph.D. from the University of Guelph in 2004 in Weed Science.
Research programs of the weed physiology laboratory in the Agronomy Department encompass weed problems in crop and rangeland systems emphasizing herbicide mode of action and fate of herbicides in plants and the environment. Specifically, the research is focused in the area of herbicide resistance including mechanisms and inheritance of herbicide resistance in weeds, the effect of elevated temperature on herbicide efficacy and identification of sources of herbicide tolerance in crops.
Since childhood, Dr. Jugulam has been a nature lover especially intrigued to know how plants can do some processes that are not possible by animals and hence she chose a career in plant science. She considers herself very fortunate to have had several opportunities to explore some intricate details of plant growth and development and also interact with eminent scientists in this exciting field.
Education
Ph.D. Weed Science, University of Guelph, Canada
M.S. Plant Breeding and Genetics, Tamil Nadu Agricultural University, India
B.S. Agriculture, Andhra Pradesh Agricultural University, India
Research
Jugulam Lab in the Department of Agronomy, Kansas State University focuses on a variety of research programs in weed science including:
Understand the physiological, biochemical, genetic and molecular mechanisms of herbicide resistance in weeds
Investigation of the effect of elevated temperature on herbicide efficacy
Identification of sources of herbicide tolerance in crops