About Chuck & Sue Rice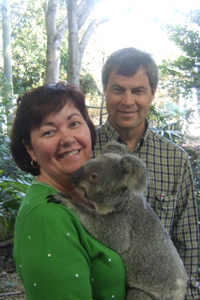 The Chuck and Sue Rice International Agronomy Lecture was established for attracting prominent scholars to interact with students and faculty on international aspects of agronomy, agriculture and the environment.
The lecture honors the ongoing career of Dr. Charles W. Rice and his years of service to Kansas State University and the global agricultural community. His dedication to international service provides many students an opportunity to broaden their perspective on global agriculture and the environment.
Dr. Rice has worked extensively in Brazil and Argentina. He has served as an officer of the International Union of Soil Sciences and currently serves on the Board of Trustees for CIAT, the International Center for Tropical Agriculture.
Dr. Rice also served as an author on the Intergovernmental Panel for Climate Change, which was awarded the Nobel Peace Prize in 2007. Sue Rice, a longtime educator, often joins Chuck on his travels and they have learned much from the opportunity to engage with new cultures and people.
Their dedication to international activities and and desire to grow in their knowledge about the world motivated them to endow this lectureship to provide learning for generations to come.