Harold E. Myers | 1946-1952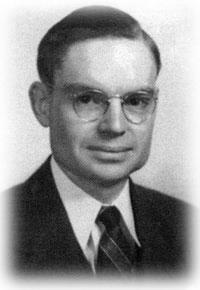 Harold E. Myers (1907-1992) was born in Netawaka, Kansas and received the B.S. degree from Kansas State College, the M.S. degree from the University of Illinois, and the Ph.D. degree from the University of Missouri. He joined the Department of Agronomy as an Assistant Professor of Soils in 1929 and was Agricultural Advisor for the Department of State during 1944-1946. During his time as Head, research on use of nitrogen fertilizer expanded greatly, several oat varieties were released, and a number of new faculty were hired.
The department was authorized to award the Ph.D. degree in 1952. Myers served as President of the American Society of Agronomy during 1953. Myers became Assistant Dean of Agriculture and Associate Director of the Kansas Agricultural Experiment Station in 1952. He was Dean of Agriculture at the University of Arizona from 1956 to 1973, when enrollment nearly tripled. Myers initiated a number of international programs as Dean and became Director of International Programs at Arizona after retiring.