Gerry L. Posler | 1990-1998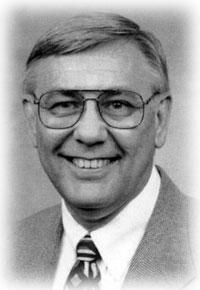 Gerry L. Posler (1942-____) was born and raised on a farm near Cainsville, Missouri. He received his B.S. (cum laude) (1964) and M.S. (1966) degrees from the University of Missouri and his Ph.D. degree (1969) from Iowa State University. He joined the Department of Agronomy at Kansas State University in 1974 as Associate Professor.
During his tenure as Head, Phase II of the Throckmorton Plant Sciences Center was completed, providing much enlarged and enhanced office, laboratory, and greenhouse facilities for Agronomy research, teaching, and extension programs. Before and after serving as Head, Posler's primary activities were teaching and advising, but he also had a productive research program in forage management and utilization. Posler advised many student groups, including the Wheat State Agronomy Club and the Student Activities Subdivision of ASA . He coached the KSU Collegiate Crops and NACTA Crops teams, both of which won national championships.