Albert M. Ten Eyck | 1906-1910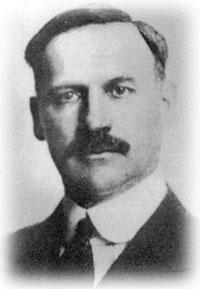 Albert M. Ten Eyck (1869-1958) was born in Green County, Wisconsin and earned a B.S.A. degree from the University of Wisconsin in 1892. After working as an Assistant Agriculturist at North Dakota Agricultural College, he came to Kansas State College in 1902 as Head of the Agricultural Department and was appointed Head of the Department of Agronomy when it was formed in 1906. The new department had two faculty, an Assistant Agronomist in Crops and an Assistant Agronomist in Soils.
Most of the area that constitutes the North Agronomy Farm was purchased in 1909. Ten Eyck greatly expanded relations of the department with the State's farmers and conducted highly popular Farmer Institutes to promote improved practices. He was President of the American Society of Agronomy in 1910. Ten Eyck was reassigned as Professor of Farm Management, a position that he never filled, and Superintendent of the Hays Branch Experiment Station in 1910. He resigned from Kansas State College in 1912 and accepted a position as Extension Professor of Soils and Crops at Iowa State College.
He was Agricultural Agent for Winnebago County, Illinois from 1914 to 1917 and Agriculturalist for the Emerson-Brantingham Implement Company of Rockford, Illinois from 1918 to 1919. Ten Eyck ended his career as a farmer and fruit grower at Brodhead, Wisconsin from 1919 to 1945.